A message from The Canadian Preplanning Council, 
COVID-19 Important Information
We are committed to the health and wellbeing of our communities. We have been closely monitoring the evolving situation, and for that reason, we have decided to postpone our seminars and events except those at the beginning of April located in smaller unaffected centers. Shortly we will be offering condensed seminars online and meetings over the phone.
Being a leader in advanced planning, our goal is to continuously provide information and resources, as the need never stops. During this time, we will be using Facebook to keep you informed. 
Join us for Free – Are ALL your ducks in a row? – Hosted by Hick and Whattam Funeral Homes
October 4, 2018 @ 1:30 pm

-

3:30 pm

EDT
Thursday, October 4, 2018 – Elks Lodge Hall, 21 Elks Street, Prince Edward, ON
Two sessions to choose from:
1:30 p.m. to 3:30 p.m. or 6:30 p.m. to 8:30 p.m.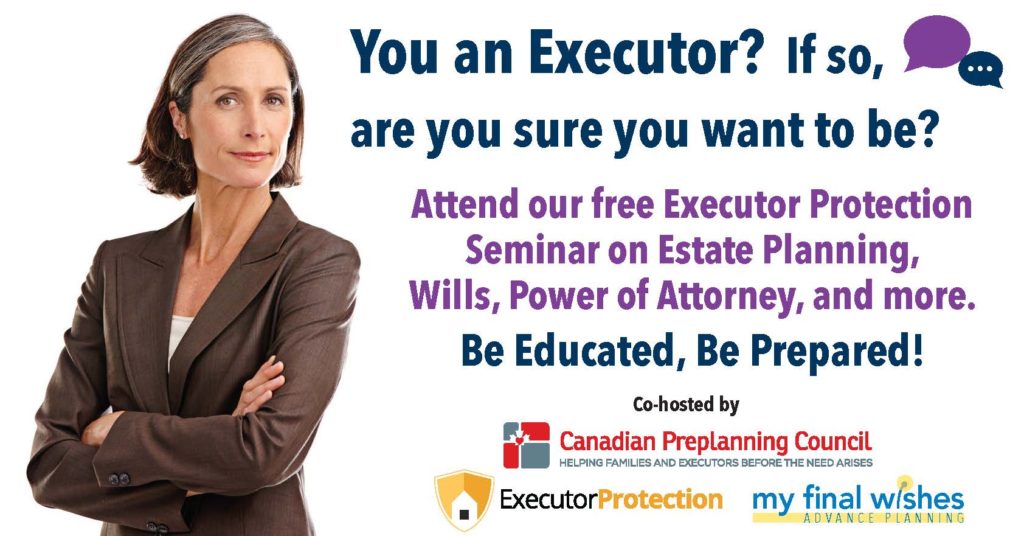 This free informative workshop will cover many topics, including:
How probate and probate fees may impact your estate; The list of 75 things that are required when a death occurs; How to prevent emotional funeral overspending; The importance of having a proper Living Will; Everything you need to know about pre-planning a funeral; Plus much, more more.
Seating is limited – RSVP today to reserve your space

Call either Hicks Funeral Home at (613)476-5571 or Whattam Funeral Home at (613) 476-2450 or E-mail: 

[email protected]

@whattamfuneralhome.com